Welcome to my world, the hub of audio solutions for your every need. As a one-man organization, I offer a personalized experience where creativity meets expertise. From crafting captivating songs for television to building immersive cinematic universes, from supplying DJ-ready tracks to publishing music under deToon Records, I am your go-to resource. Step into a realm where music comes alive, and let's create unforgettable sonic experiences together.
With expertise in sonic creation, I bring a comprehensive skill set to the table. Whether you need realistic and immersive sound effects or captivating background music, I have the experience to deliver exceptional results. From film projects to gaming and beyond, I can help you create a truly immersive audio experience that enhances your media and captivates your audience. Let's collaborate and bring your vision to life with the perfect blend of sound and music.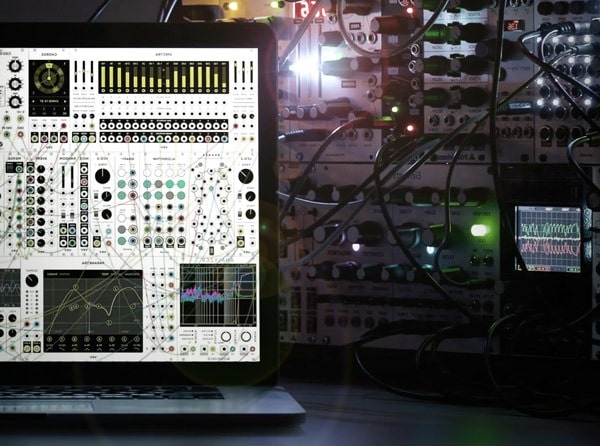 I specialize in crafting unique soundscapes using a hybrid system that combines an analog modular synthesizer with a digital counterpart. This powerful combination allows me to delve into the realm of sonic exploration, creating captivating music and shaping it visually on an oscilloscope. With expertise in editing, mixing, and mastering, I ensure that the final result is a finely polished masterpiece that resonates with your audience. Join me on a journey where technology and creativity converge to produce extraordinary musical experiences.
I am excited to share with you the fruits of my labor – music that I have poured countless hours into perfecting. The majority of this work has been a solo endeavor, as I have experimented with new sounds and synthesis techniques. However, there have been instances where others have assisted with sampling or recording tracks and I am not shy to give credits where it is due. Rest assured that everything on this page is 100% self-made, with occasional use of sampled parts from other songs. 
FL Studio has been my go-to DAW for the majority of my music production career. I started using Fruity Loops 3 when I was just 7 years old and have since accumulated 20 years of experience working in this software. As a result, I am intimately familiar with all of its features and capabilities.
However, my experience with FL Studio hasn't prevented me from exploring other DAWs. In fact, I have also become proficient in other popular software like Ableton, Pro Tools, Cubase, Audacity, VCV-rack and Reaper. I believe that having a diverse skill set is essential for any music producer, as different DAWs offer unique workflows and features that can be used to achieve specific production goals.
That being said, I always return to FL Studio because it's where I feel most comfortable and confident in my abilities. With my extensive experience in this software, I can focus on making music without getting bogged down by technical issues or software limitations. Whether I'm creating beats, writing melodies, or mixing tracks, I know that I can rely on FL Studio to bring my ideas to life.
My top Spotify tracks of all time.
My favorite album to this day
Beats & Synthesizers are all me!
Recorded in my audio studio.
Modular synthesis is a type of sound synthesis that involves using individual analog sound modules to create unique sounds. It's a fascinating world of audio exploration where analog studio equipment meets sound generation. The process of modular synthesis involves physically making connections of energy with cables, creating complex functions that make music together. For me, it's a meditative process that takes all day, but it's worth it when I can create sounds that I have in my mind without any hesitation or latency problems that are often encountered with many digital platforms or DAWs. Also the music created with such systems are fundamental to making soundscapes and generate ideas that can later be implemented in full production.
The beauty of modular synthesis lies in the fact that the sound is not pre-programmed or limited by software. Instead, it's created in real-time through the physical manipulation of cables and knobs. This allows for infinite possibilities when it comes to sound design, and the ability to create truly unique and original sounds.
To supplement my analog sound modules, I also make use of VCV Rack – a digital modular synthesis DAW that offers real-life clones of modules that would otherwise be expensive to purchase on my own. Using some studio techniques, I have found a way to integrate this digital platform in real-time with my physical analog modules, creating a hybrid system that combines different techniques of audio generation.
VCV Rack has been a game-changer for me, allowing me to experiment with different sound modules and signal paths without breaking the bank. By offering a vast library of modules, I am able to expand my sonic palette and add new dimensions to my music. Additionally, VCV Rack allows for easy saving and loading of patches, making it easy to recall previous settings and configurations.
The ability to combine VCV Rack with my physical analog modules has been a significant step forward in my exploration of sound generation. I have found that this hybrid system offers the best of both worlds – the precision and flexibility of digital processing, combined with the warmth and character of analog sound modules. It's a process that has allowed me to push the boundaries of what is possible with sound, and I am excited to see where this journey will take me. You can already hear many of it's influences in my music, for instance the last track on AEROSPACE called AMALGAMATE is completely made with analog sounds, including it's drum machines.
You may have noticed that I am the proud owner of an audio studio. With a total of 24 inputs, I am able to record bands and sample instruments for my own music. My passion for audio production and studio design started during my years of studying CMD. While attending college, I was tasked with building a studio for the school's newly acquired audio system (A D-Control). It took me three years of hard work, including studying acoustic design in Japan and working with XMON, to make the studio a reality.
After successfully completing my bachelor's degree, I knew I needed to have my own space to make music. Hence, I built my own studio, complete with a separate recording room and multiple drum sets for sampling and recording. Additionally, my brother has an impressive collection of musical instruments that I frequently use for sampling and recording.
My studio is a place where I can express my creativity and passion for music production. It's a space that I have poured my heart and soul into, and I am grateful for the opportunity to have my own dedicated space for making music.